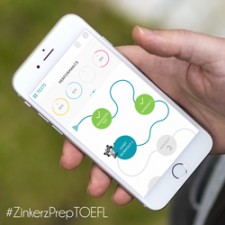 Full access to the Zinkerz Prep for the TOEFL® Test App is available this month for only $4.99
March 15, 2016 (Newswire.com) - Educational app developer, Zinkerz is now offering students full lifetime access to the Zinkerz Prep for the TOEFL® Test app for the low price of $4.99. This one time price gives students entry to the best online TOEFL preparation and all of the action packed functions on the revolutionary test prep app. Features include full practice tests, interactive games, practice drills, flashcards and much more, all at the student's fingertips. Every aspect of the Zinkerz app is created to enhance the student's test prep experience and put them on the road to success. The app is available both on iTunes and through Google Play. Existing Zinkerz Prep for the TOEFL® Test App users who re-install the app can login using their username and password and retain any previous progress in the app.
Developed by top educators and infused with the latest technology, the Zinkerz Prep for the TOEFL® Test app is the only place where students can practice for every aspect of the TOEFL® exam anywhere, anytime. Materials focusing on improvements in reading, writing, listening and speaking are all available wherever and whenever the student is ready to study, whether on their smartphone, tablet or desktop.
Co-founder Mordejai Burstein explains, "We are excited to make our App more available than ever to students, to give them the tools to achieve their goals." Ariel Weiss, Zinkerz Co-Founder and CEO says of the ZinkerzTOEFL app, "This App surpasses other TOEFL preparation methods by allowing students to simulate the complete exam experience."
At the new low price students receive access to unlimited TOEFL test prep at their fingertips including study drills, flashcards, lesson tutorials and interactive games. Each lesson conveys important material, valuable tips & tricks, and sample questions with detailed explanations. Already the most affordable option on the market, the Zinkerz App can replace numerous test prep texts and materials, making it the most convenient, economical and portable option available on the market.
Get it now on iTunes or Google Play
About Zinkerz
Zinkerz is an education start-up creating quality test preparation applications that make students full partners in their own learning. Designed to help students prepare for and succeed on their exams, the apps are gamified, adapting to students' needs, economically affordable, and accessible on any mobile device. Breaking new ground in educational technology, Zinkerz aims to ignite a desire for learning in every student.
About TOEFL
TOEFL® is a registered trademark of Educational Testing Service (ETS). Zinkerz is not associated with, and owns no rights to the TOEFL® Test. This website and the Zinkerz app for the TOEFL® Test are not endorsed or approved by ETS.
Source URL: http://prweb.com/releases/Zinkerz/New/prweb13270980.htm
Share: